Looking for an entry-level home theater projector? You're in luck. Just a short time ago, the budget-friendly projectors sacrificed image quality, for price. If you didn't have the budget to pay more than $1,000 for a projector, you could expect sub-par image quality and construction.
The good news is that has changed. Today, there is a range of sub-$1,000 options that provide impressive image quality and that will completely enhance your home theater. So which budget-friendly projector should you choose? Really, it depends on what you're looking for, but here are 5 projectors under $1,000 that provide excellent picture quality, solid construction, configuration flexibility, and competitive brightness.
BenQ HT1075 – For years, BenQ manufactured one of the most popular sub-$1,000 home theater projectors – the W1070. Finally, they released an update last year, the HT1075. For the price, the 1075 is tough to beat, especially in terms of picture quality. The HT1075 provides crisp, detailed images with a vibrant color array and strong contrast. Plus, the HT1075 incorporates vertical and horizontal lens shift, which is a useful feature during installation. The W1070, on the other hand, remains a solid option for your home theater, as well.


Benq HT1075
Features:
Native Full HD Resolution
2,200 Lumens
3D Ready, Available Wireless Connectivity
10,000:1 Contrast Ratio
Price: $799
Optoma HD26 – Optoma is a market leader in budget-friendly projectors, and the HD26 is hands-down the best option they offer that's less than $1,000. As far as a home theater projector, the HD26 does reasonably well, providing a bright picture even in modestly lit living rooms. Plus, the HD26 has a built-in speaker – a 10-watt mono – which makes this a great, affordable "out-of-the-box" system for your home theater. The Optoma HD141X, which is a bit more affordable than the HD26, shares many of the same features, and is another great option from Optoma.


Optoma HD26
Features:                                                                                                      
Native Full HD Resolution
3,200 Lumens
3D Ready, HDMI Connections
25,000:1 Contrast Ratio
Price: $699
Epson PowerLite Home Cinema 2030 – Compared to the two previously mentioned projectors, the Epson 2030 is a LCD-based projector. So you won't see any rainbow artifacts with the 2030 – which is one advantage. Plus, the Home Cinema 2030 is built for home entertainment – it can be used in your home theater, for gaming, or as a replacement for your TV. The biggest disadvantage: The 2030 doesn't have lens shift, which limits your configuration options.


Epson Powerlite Home Cinema 2030
Features:                                                                                                      
Built-in Audio
2,000 Lumens
3D Ready, HDMI Connections
Native 16:9 Aspect Ratio
Price: $799
Acer H6510BD – When it was introduced in 2013, the Acer H6510BD was one of the most affordable 3D-ready projectors on the market. Now, the space is a bit more crowded, and prices on a few better performing models have dropped. Overall, the Acer performs reasonably well. The picture quality is vibrant in rooms with ambient light, but in theaters, the Acer is prone to showing rainbow artifacts.


Acer H6510BD
Features:                                                                                                      
Full HD, 3D Ready
3,000 Lumens
HDMI Connections
10,000:1 Contrast Ratio
Price: $699

5. LG PF85U – The LG PF85U might be the best replacement for your TV. LG bills this as a LED Smart Projector, which means it has a built-in smart TV. The LG PF85U can connect easily to web-based viewing sites like Hulu or Netflix. Also, the projector has a reasonably loud stereo sound system built-in. Where the LG falls short is in image quality. Overall, in dimly lit rooms, the LG performs well, but when more light is present, you're likely to experience washed-out colors and less detailed images. Also, the LG isn't 3D ready and there aren't zoom capabilities, which are two other disadvantages.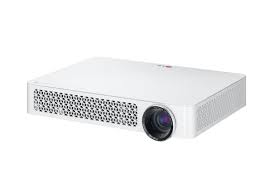 Features:                                                                                                      
Built-in Audio
1,000 Lumens
HDMI Connections
Extended-life LED lamp
Price: $999

If you're planning a home theater on the cheap, you have options available to you that will enhance your home theater. Is there a clear winner? The BenQ HT1075 is one of our favorites, but depending on the features you're looking for, all five of these projectors offer something a little different. Plus, they're all affordable and perform well.