Originally launched in 2009, the Mitsubishi XD90U was a powerful XGA projector, ideally suited for business and classroom environments. It was priced in the mid-range for XGA projectors, starting at $2995. And for the price, the XD90U didn't deliver an impressive spec sheet or features: There was no built-in audio, connections were limited, and the brightness output was just acceptable.



The projector did a few things right. For one, it was extremely lightweight and portable, weighing just 3 pounds. That's considered great even by today's standards. Plus, the images it projected were above average, with only a few limitations. And finally, the XD90U's lamp performed well, lasting well over 2,000 hours.
Today, the projector – and Mitsubishi – is no longer in production. Yet, a reasonably priced used or overseas model might be great for at-home entertainment or classroom and business presentations.
XD90U: Quick Specs
Lumens: 1,500 ASNI Lumens
Contrast Ratio: 2,000:1
Native Resolution: XGA (1024×768)
Aspect Ratio: 4:3
Video Compatibility: S-Video, Composite, Component
Best Features of the XD90U
The best features of the XD90U: Impressive portability, above-average image quality, decent lamp life, and acceptable brightness.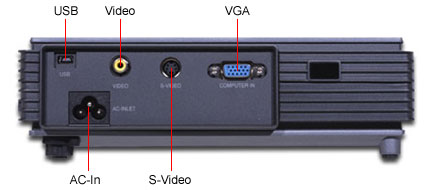 Portability: At 3 pounds, the XD90U was super lightweight, making it ideal for portable home entertainment and multi-classroom presentations. Additionally, it measured about the size of a hardcover book, upping its portability. One limitation: It didn't have lens shift capabilities, making this more difficult to fit to a specific screen.
Image Quality: Overall, with an output of 1,500 lumens, the XD90U's images were bright and for the untrained eye, they would look crisp and clear. But with larger images, and in environments with ambient light, the details started to wash out and small text wasn't clear.
Lamp Life: For an XGA projector released in 2009, the XD90U received average lamp life. The projector's bulb was rated at 2,000 hours, which, although it would be considered below average today, was about par for the course at the time. Fortunately, the cost of maintenance is affordable. A replacement lamp for the Mitsubishi XD90U which is also known as part number VLT-XD90LP starts around $300.
Mitsubishi XD90U: Limitations
So you see there were things to like about the XD90U, but what were the limitations?
Mitsubishi Is No More: For one, Mitsubishi has dropped out of the projector market. This doesn't reflect on the projector, but rather, it can make finding replacement hardware more difficult to locate. Fortunately, XD90U replacement bulbs are easy to find; but switches, power cords and circuits can be a challenge to track down.
No Sound or 3D: The XD90U didn't have built-in sound or 3D capabilities. The lack of sound limits its use as a portable projector. 3D though is more of a concern for home video viewers; it's not usually an issue for business and classroom presentations.
Limited Connections: There is no HDMI or USB port on the XD90U. That severely limits its capabilities, especially for those looking to hook this projector up to a Blu-ray or DVD player.
 
Overall, the XD90U does provide a range of useful features. But today, some of the technology seems dated. On the used market, it might be an ideal solution as a secondary TV-only projector, or for business presentations on a budget. But the price must be right.