Don't have the budget for a multimedia projector? Well, hey, here's something that could give the most cash-strapped technophiles the big-screen projector experience. It's the DIY $10 smartphone projector, made by you.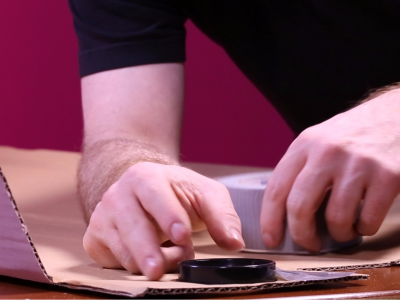 That's right. You can make your own projector that displays video from your smartphone for right around 10 buckaroos. Sound impossible? Business Insider recently released a video showing a step-by-step tutorial for making the projector. It only takes a few items you can find at any general merchandise store, including:
A magnifying glass
Your smartphone
A shoebox
X-Acto Knife, tape and marker
Play-Doh
Essentially, the shoebox serves as the housing, the magnify glass as the lens, and your smartphone as the data input and bulb. A basic overview: You attach the magnifying glass to the front of the shoebox and the smartphone midway through the box. Thus, the screen of your smartphone is projected through the magnifying glass. The only catch: You have to make the screen display upside down, as the magnifying glass flips the image.
As for image quality? Well, for 10 bucks, don't expect Ultra HD imaging, but from the Business Insider video, the image appears to be passable. At least your eyes won't strain watching that small-screen. If anything, it would make for a great project to try with your kids on a Saturday afternoon. What do you think? Will you give it a shot?