When the Barco iCon H600 hit the market in 2005, it was one of the first truly cloud-connected projectors. The H600, since retired, could display up to four data images, video or streaming media from any device or website connected to the network. The Barco projector offered a glimpse into the future of cloud-connected A/V, and as such, it carried an eye-popping price tag of $34,999.
Flash forward to today, Barco is continuing to expand its advanced cloud-connected projectors, but it's clear that the iCon H600 laid a strong foundation for Barco's current line-up. For example, the iCon H600 enabled fast data sharing across the network. Images, video and streaming media could be pushed onto the display screen from the cloud, and any number of sources could be collected and added to the network. Remember, this was in 2005, before "cloud computing" had become a common tool for businesses.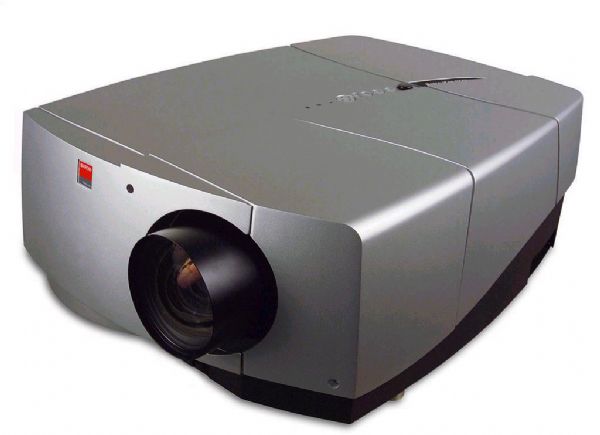 Plus, for a projector released more than a decade ago, the iCon H600 also boasted some impressive image stats, including a 6,000-lumen output, Full HD native resolution, and a maximum resolution of 2048×1536. In other words, the iCon H600 was a powerful piece of hardware designed for corporate presentations and collaboration. Even today, a decade later, there's a lot to like about the H600.
Barco iCon H600: Lamp, Brightness, Image Quality, Cloud Connectivity
Advanced Networking: The iCon H600 was really one of Barco's first steps into cloud computing, and it was a master at that. Essentially, the projector connects to the cloud via a device, and thus, data from millions of sources that were connected to the cloud could then be pushed to the projector. Plus, a range of devices could be connected to the network — from smartphones, to laptops, to desktops — enabling faster data visualization across organizations. For 2005, this feature was extremely advanced.

Impressive Picture-in-Picture: With the ability to project four images from different sources simultaneously, the H600 really pushed the envelope as a presentation tool. Plus, the four images could be a variety of media — for instance, two data images, a streaming video, and a video.
A Bulky Design: Barco projectors are, in general, heavier than projectors with similar specs. That's certainly true of the iCon H600. At 11-inches, by 23-inches by 24-inches, and weighing 77 pounds, the iCon is a boulder of a projector. Therefore, this isn't built for portability. It's a permanent installation piece. However, this model comes with interchangeable lenses depending on your application, so it is more customizable than most projectors on the market.
Bright, Full HD Image, Average Lamp Life: Projecting a 6000-lumen image, the iCon H600 is powerful enough to handle mid- and large-sized venues, with moderate amounts of natural light. It also has a native resolution of 1920×1080, as well as vertical and horizontal lens shift. The only catch: At this brightness level, the iCon H600's lamp life is average, if not slightly underwhelming. The Barco H600 bulb is a 300-watt UHP bulb otherwise known as R9841829, and as the iCon H600's replacement lamp and housing module are on the higher end, the maintenance costs are a bit more expensive compared to more affordable projectors.


Barco iCon H600 Projector – Interchangeable Lens
The Bottom Line: The Barco iCon Line Was Ahead of Its Time
The entire Barco iCon series, which the H600 was the last iteration of, was a powerful cloud-connected tool, delivered at a time before cloud computing was so widely available. Really, it's a relic of a nascent technology, and it really shows the starting point for Barco's contemporary cloud-connected projectors.
Today, used Barco iCon H600 devices are available online, sold primarily by third parties. Would a used H600 be worth it today? It might be. If the price is right. The technology is still extremely useful today, but in general, the offering prices for used projectors in the Barco line can be quite expensive. Plus, today, technology has gotten cheaper. You can find a variety of Full HD projectors with multi-window capabilities, like the Panasonic PT line, however, depending on the components you require, your application and the price, the Barco might still suit your needs.