As a 3LCD projector, the Hitachi CP-A352WN enjoys some advantages over business DLP-based machines. First, the CP-A352's 3LCD lamp achieves a brightness rating of 3,500 lumens. That's substantially brighter than similarly priced DLP projectors. The reason: 3LCD projectors typically perform better in brightness tests, thanks to their light creation technology. Secondly, the CP-A352 is immune to rainbow artifacts, which is a common video problem with budget single-chip DLP machines.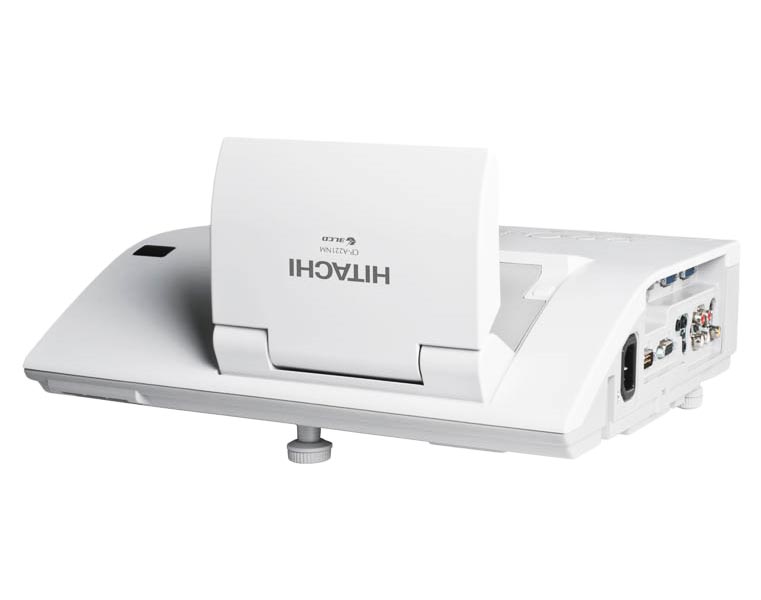 Overall, the CP-A352WN is a solid multimedia projector. It has built-in audio, provides a robust suite of wired networking options, achieves long-lasting lamp performance, has a range of connections, and is capable of PC-less presentations. Plus, it's an ultra-short throw projector – capable of delivering an 80-inch image from about 1.5 feet from the screen – which is super important for small spaces like classrooms and boardrooms.
Even though the Hitachi CP-A352 has been out of production since September 2014, it remains a viable option for business and classroom presentations. Fortunately, new versions are still available online, starting at around $1,399, and that makes the CP-A352 even more attractive as a replacement multimedia projector.
Specs and Features: Hitachi CP-A352WN
Brightness: 3,500 lumens
Contrast Ratio: 4,000:1
Connections: HDMI, USB A x 2, USB B, S-Video, 2 PC connections, LAN, RCA, and more
Audio Output: Built-in 16-watt speaker
Weight: 4 lbs
Native Resolution: XGA (1024×768), Max Resolution (1600×1200)
The Hitachi CP-A352 is a utilitarian business tool, and the projector's feature set highlights this no-frills design. For instance, wired networking, PC-less presentations and even wireless presentations (with an available adapter) are all possible. While image quality is about average, more advanced image features like PC 3D capabilities, optional lenses, and lens shift, aren't available. In other words, if you're looking for a machine for regular video and highly defined images, this might not be the best option for you.


Here are a few other things you can expect from the CP-A352:
Powerful Networking Features. There are a range of options when it comes to networking. First, the projector can be wired into a local network, enabling the projector to be controlled remotely. When networked, the CP-A352 can pull data and presentations from other computers on the network. Plus, an available USB adapter makes it possible for presenters to do wireless presentations, essentially drawing the slides from an office computer.
Lamp Performance. LCD lamps tend to outperform standard UHP lamps, lasting longer overall. But the Hitachi CP-A352 does not have an LCD lamp, instead it uses 3 LCD panels for light creation. The projector is powered by a UHP, 215-watt bulb that delivers 2,500 lumens of brightness in standard operating mode. In the energy-saving mode, the lamp life is extended to 4,000 hours. Fortunately, the Hitachi CP-A352 replacement lamp starts at $222 – part no. DT01411 – a small investment in improved performance.
Image Quality. Overall, image performance is solid for the CP-A352. 3LCD projectors tend to have lower contrast, compared to DLP-based units, but with a contrast ratio of 4,000:1, the Hitachi performs well. The images are crisp, and the colors are saturated. Video performance is also decent, but as a 3LCD projector, a slight motion blur can be noticeable during videos. If you'll be showing lots of videos, you might consider a DLP alternative.
Portability. At just 8 pounds, the projector can be taken just about anywhere. Its body is slightly larger than DLP based projectors (3x13x12), but remains reasonably small. In addition, the ultra-short throw lens, makes it possible to fit this projector into even the tightest of spaces.
Bottom line, the Hitachi CP-A352 is a decent 3LCD projector that provides a ton of business flexibility. As a 3LCD set-up, it has its advantages and limitations – i.e. reduced quality video, less contrast. But in all, it performs extremely well and offers a range of features. For standard business or classroom presentations, there's a lot of value in the CP-A352.