SMART has an interesting line-up of projectors. These aren't stand-alone projectors, but instead, they're built to be integrated with a SMART Board. Along with the board, SMART projectors enable interactivity, you can draw on the board, while an image is being projected, and that's why they're commonly used in classrooms and for business presentations.
The SMART UF55W was originally released in the mid-2000s, along with the SMART Board 600i3. The projector delivers crisp and clear images, and it's compatible with a range of computers and video inputs. Therefore, it's an ideal device for transforming and enhancing classroom multimedia projectors. What's more: The UF55 is extremely user friendly. These days, the UF55W is out-of-production, having been replaced by the UF70. Yet, still, it is a highly capable piece of A/V hardware that will enhance classroom whiteboard presentations. A used or refurbished UF55W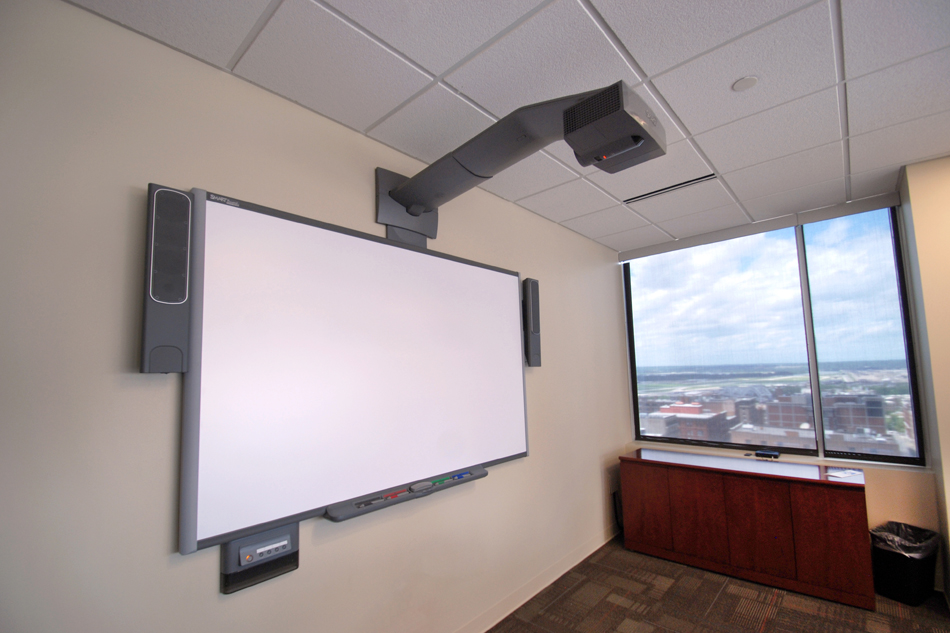 remains a great, lower cost replacement, than buying a new set-up.
SMART UF55W Specifications: Image Quality, Brightness and Compatibilities
Compared to SMART's lineup of projector's today, the UF55W is equipped with a similar feature-set and image output and brightness. The UF70, the UF55W's replacement, has some updated specs like a slightly brighter image, enhanced video capabilities, and greater networking functionalities. Yet, for standard SMART Board presentations the UF55W performs well. Here are a few specs to consider:
Brightness Range: The UF55W is equipped with a 2,000-lumen bulb, which delivers a bright image even in well-lit classrooms. The bulb has a long lamp life, rated at 3,000 hours in the standard 200-watt mode or 4,000 hours in economy mode. That's an above-average lamp life for projectors released at the same time. Fortunately, the SMART UF55's replacement bulb – Part No: 20-01032-20 – is affordable, keeping maintenance costs low.
Image Quality: When synched with the SMART Board, the UF55W enhances presentations with stellar images. For instance, most SMART Boards measure about 80 inches, and at this size, the projector delivers a crisp image. The UF55W has a contrast ratio of 2000:1, and it's built in the WGXA resolution (1280×800) and 16:10 aspect ratio. In other words, images are clear, with text easy-to-read for the audience. In addition, the color production is vibrant and well-saturated.
Short Throw Ratio: The UF55W is designed to be mounted to the ceiling, and features a .51 throw ratio. That means it's installed closer to the screen, and thus, presenters in the front of the classroom won't get in front of the light source, which creates shadows on the screen. Plus, with a range of image shift capabilities, the UF55W is easy to install and set-up.
Ease of Use: The UF55W is built for entry-level users, and thus, perfect for education environments, where there isn't a lot of extra time for drawn-out trainings. These projectors feature a user-friendly menu screen, and it's essentially a plug-and-play set-up. Teachers and business people can quickly plug their computers into the device and start presentations, which is ideal in educational and business situations.
Overall, the SMART UF55W maintains its own in terms of performance, compared to similar SMART projectors today. Of course, it does show its age in a few ways, but yet, the core feature-set is ideal for classrooms. Educators can write and annotate images on the board, as well as erase what they've written. What's more: The UF55 provides a range of functions, from displaying text and images to showing movies in class (up to 1080i), and for presentations, the image quality is spot-on. That's why the UF55 remains a solid investment. Even though it's out-of-production, a used or refurbished model is an ideal replacement that will save schools and business thousands.