Good evening, I'm Joe and this is my review of David Lynch's "Lost Highway" – but first – I'm an A/V nerd so let me give you the rundown of my home theater setup.
Screen: Elite Spectrum2 125"
Projector: InFocus IN3128HD
Blu-Ray Player: Pioneer Elite BDP-33FD
Receiver(s): Nakamichi AV-8 Main Receiver, Carver AV-806X Preamp
Speakers:
• Center: Velodyne CHT-FRSGV
• Front: JBL Northridge Series N38
• Rear: Polk Audio – FXi A4
• Subwoofer(s): Velodyne VLF 810 (2)
David Lynch, an American enigma, and his films are even more of a conundrum than he is. In 1997's "Lost Highway" he continues his usual modus operandi which takes us into the unknown and blurs the lines of reality and dreams. Bill Pullman plays Fred Madison, a saxophonist who is terrorized by a man who enters his house when he's asleep and videotapes him and his girlfriend Renee (Patricia Arquette) as they sleep.
At a party, he meets a strange mystery man played in ghastly white makeup by Robert Blake, who declares he is behind the videos Madison received. Mystery Man invites Fred to dial his own phone number and to listen as he, who is standing right in front of him, "answers" at the other end of the call.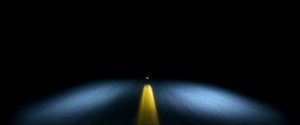 There's also a grisly murder, a fire, a transformation of physical being – right out of a Kafka novel involving auto mechanic Pete Dayton (played by Balthazar Getty), a gangster's pornstar arm trophy, also played by Arquette, who convinces Pete to commit a crime, a memory lapse by Getty, a reappearance by Fred Madison and a series of bizarre foreshadowing and precognitive images that add to the mystery of "Lost Highway."
The film's end result is a world that is part film noir and part nightmarish delight/classic Lynch, in which you feel as though something is wrong throughout the whole movie but you can't quite put your finger on it.
Suffice to say, it is a weird movie in that spooky, stomach-turning, deadpan delivery that Lynch's movies always are and it's guaranteed to perplex anyone who likes narrative films to be wrapped in tidy resolutions and optimistic fade- outs. The striking visuals, combined with Lynch's regular composer, Angelo Badalamenti's music and intense sound design are all frighteningly effective.
"Lost Highway" often feels like an esoteric, intentionally perverse joke that Lynch knew would never make sense to most viewers. It's also feels, with its similarities to "Twin Peaks: Fire Walk With Me," "Blue Velvet" and "Wild at Heart," like familiar, yet treacherous territory. Lynch's main objective is to shock and arouse us, but in using the same kind of music, camera effects and offbeat editing rhythms over and over his work is beginning to look like variations on a single theme – the nightmares that creep into our realities… or is that the other way around?
Patricia Arquette, whose acting style is perfectly matched to Lynch's vision, gives the strongest, most memorable performance and is reminiscent of Kim Novak's similar dual roles in Hitchcock's "Vertigo."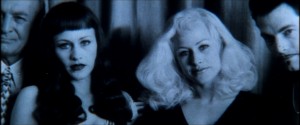 There are also cameo appearances by Richard Pryor, Marylin Manson, Giovanni Ribisi, Gary Busey, Henry Rollins, Mink Stole (of John Waters' "Pink Flamingoes" fame) and Natasha Gregson Wagner, daughter of the late Natalie Wood. One piece of trivia to note: The pornography mogul Andy was played by Michael Masse – who was Fun Boy in "The Crow", the one who inadvertently shot and killed Brandon Lee during filming.
Overall, I think this was Lynch's masterpiece up until the release of Mulholland Drive four years later (another review for another time). This was his last hurrah for reality before plunging even further into the depths of the otherworldly nightmare realms of his next two films. Here we get to see some of the Lynch's influences from Orson Welles, Alfred Hichcock and co-writer Barry Gifford (also wrote the novel for Lynch's adaptation of "Wild at Heart". If you're looking for a happy ending, you should know better than to expect that from Lynch – this film is no different. I've watched this film over 20 times and it stands alone as a true depiction of anguish, desperation and the stark ugliness of horrible how humans can be to one another.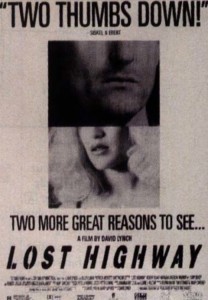 The promotion of the film in US theaters was leveraging a rare event. When both Siskel and Ebert give it two thumbs down – which this one emphatically did, you have definite marketing potential to the large camps of moviegoers who reject the opinions of critics.  Thanks for reading, and if you liked it, please share!