Good evening, Joe again, for MyProjectorLamps.com and here is my review of Nicolas Winding Refn's "Drive"  – Here's my setup of the second home theater in my house.
Home Theater Setup:
Screen: Da-Lite 120"
Projector: Sharp PGF267X-L
Blu-Ray Player: Toshiba BDX1400
Receiver: Marantz NR1603
Speakers: NHT Absolute 5.1 Surround System
Ryan Gosling does his best James Dean in Nicolas Winding Refn's "Drive" – only this isn't a little ditty 'bout Jack and Diane. This is a neo-noir action thriller in what feels like a true break-out role for Gosling (because All Good Things wasn't far enough outside his normal typecast).
Drive is one of those films that needs very few words exchanged from the main character to understand them. This is where I think Gosling pulls off being a brooding stuntman credited as simply 'Driver', who moonlights as a getaway driver for high end robberies. The directorial styles of Refn vary from Michael Mann (Heat), to John Woo (Hard Boiled), to Peter Yates (Bullitt) so the avid fans of gritty filmmaking are in for a real treat. Your average moviegoer might just think it's just some strange 80's timepiece set with modern cars and fashion (with exception to Gosling's satin scorpion jacket, which is oddly nostalgic and became a cult Halloween costume).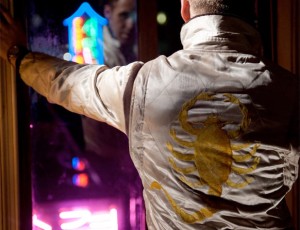 We get to see Bryan Cranston, fresh from season four as Walter 'Heisenberg' White in the smash TV hit, Breaking Bad. He plays Driver's mentor and handler of sorts who through his own dealings owes mobsters some long dough. The mobsters are played by Ron Perlman (Sons of Anarchy, Hellboy) and Albert Brooks (The Simpsons, Finding Nemo) steals the show as a menacing villain, which is something I never thought we'd get to see. There's a love interest between Driver and his neighbor Irene (Carey Mulligan), who is raising her daughter alone since her beau is in prison. When her boyfriend gets out of prison, he owes someone on the inside for protection he received while incarcerated. Driver decides to help because it is his only way of showing affection. Things go South during what should be a well-planned, routine holdup at a pawn shop. Now Driver has to use his cunning and expert driving skills to survive.

Somehow the otherwise dazzling Christina Hendricks (Mad Men) was frumpy and trashy in this film and it works! There is a shotgun blast reminiscent of Willem Dafoe's in Wild at Heart, so prepare yourself for this scene, if cautious. The chase scenes are extraordinary as we're taken to some of the lesser-seen areas of Los Angeles – at maximum speed. Ronin (1998) is the only film that comes close to the octane action thrills of "Drive". I would sum the action part of the movie as a hybrid between Cobra (1986), starring Sylvester Stallone, and Ronin (1998) starring Robert DeNiro. I think what separates this film from them is the score/soundtrack. Kavinsky's 'Nightcall' in the opening credits and then other modern renditions of 80's synth pop from College, the Chromatics, and others.
This film was nominated and won several prestigious awards for Refn (as director) and Brooks (as supporting actor) and when you watch you can see why. In film school I learned about how to try to get emotional charges from the actors in their facial expressions and mannerisms instead of telling us how they feel. I had yet to see this done properly since Jim Jarmusch's "Dead Man" (1995) and this one tops it. Co-star Carey Mulligan said of filming, "staring longingly at Ryan Gosling for hours each day", which may be the easiest money she's ever made. Check out this film if you're into gritty crime thrillers with chase scenes that rival some of the best on film. Once again, thanks for reading and please share if you liked it.