Top 9 Classroom Projectors Under $1,000 from 2014-2015
Finding the best projector for your classroom or business presentation can be a challenge. What specs should you be looking for? How bright does the projector need to be? And should you opt for a short-throw or long-throw projector?
Fortunately, all of these questions are fairly easy to answer, but before you start shopping, you should know what you're looking for. First things first, start with resolution.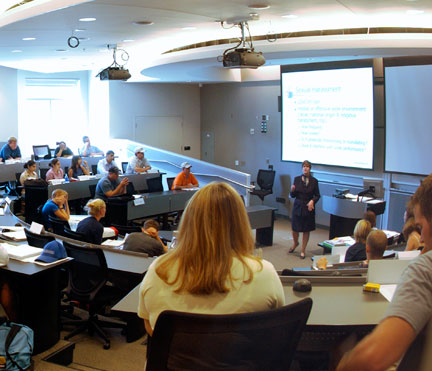 Classroom Projector Native Resolution Types
Currently, the majority of classroom and business projectors are set at specific native resolutions. This means that they're designed to display images from particular devices. So if you have a computer with an XGA resolution, you should opt for an XGA projector. This will ensure that the image you project appears the same as it does on the computer.
Common resolutions:
XGA (1024×768) – Many laptop computers display images in XGA, and this resolution provides a decent amount of detail. If you need a projector for PowerPoint presentations, simple graphs or business presentations, an XGA projector will suffice.
WXGA (1280×800) — In the last few years, WXGA have become increasingly common. These projects display even more resolute images in widescreen format. For instance, a WXGA is ideal for detailed architectural designs, large format digital photography and complex drawings. Many computers are set in WXGA resolution.
What Else Do You Need to Consider?
You should also consider brightness and throw ratio. First, brightness refers to the image. In large classrooms or in spaces with large amounts of natural light, you'll need a projector that casts a brighter image or will need to darken the room. Generally, a projector with a bulb rating between 2,000 and 3,000 is sufficient for most classrooms.
Additionally, you should consider throw ratio. Simply put, throw ratio is the distance the projector needs to be placed away from the screen to project an image of a certain size. There are three types of throw ratios: Long-throw, short-throw and ultra short-throw. For classrooms, long throw projectors can be mounted to the ceiling. But short-throw and ultra short-throw projects can be placed closer to the screen, which diminishes the amount of shadows that are cast on the screen.
So Which Projectors Are Best?
Here are a few of the top classroom projectors in each resolution category. Projectors were chosen based on a few criteria, including brightness, price, features and construction. All of these projectors are 2014 or 2015 models.
XGA Resolution
These three projectors provide great data-image quality, long lamp life and they're also all feature-rich which make these ideal in business and classroom settings. Plus, they're all offered at unbeatable prices. The NEC model is a bit more expensive, due to its USB thumb drive connectivity.
BenQ M529 — $399 – 3000 Lumens
NEC NP-M282X – $595 – 2800 Lumens
Optoma X316 – $379 – 3200 Lumens
WXGA Resolution
The top 3 WXGA projectors are all 3D ready. Both the ViewSonic and BenQ are PC 3D ready, while the Vivitek model is Full HD 3D ready. Overall, these projectors provide a lot of value – excellent image quality, built-to-last construction, and long lamp life – and each one would work nicely in the classroom.
Vivitek DW868 – $432 – 3200 Lumens
ViewSonic PJD5555W – $810 – 4500 Lumens
BenQ MW526 – $499 – 3200 Lumens
SVGA Resolution
As you can see, the SVGA and XGA models are comparable in price, whereas these were once much more affordable than XGA projectors. For the price, these projectors cast bright images, and they data-image quality is sufficient.
Epson V230 – $349 – 2800 Lumens
Acer P1173 – $305 — 3000 Lumens
BenQ MS504 – $339 – 3200 Lumens
These were a few of our favorites that were released in 2014 and earlier this year. In terms of performance, many 2013 models are still very competitive, but we narrowed it down a bit. Did we miss anything? What are your favorite business and classroom projectors released in 2014 and 2015?
MyProjectorLamps.com is your source for the best prices on projector lamps from America's favorite manufacturers. Order a genuine projector lamp from us today.