The Acer S1385WHne combines portability and output brightness to serve primarily on-the-go business operators. And even though it's super affordable, starting around $750, the projector performs extremely well. The images are cast in native WXGA resolution and the projector delivers 3,200 lumens of estimated brightness. It works best in small- to mid-sized venues.
Of course, with its sub-$1,000 price tag, the S1385WHne isn't equipped with a long list of features, but even so, it's not a complete bare-bones piece of hardware. First, it's equipped with dual HDMI ports – which are very useful for business presenters. Plus, its short-throw lens works well even in cramped venues. Bottom line, if you're looking for a budget-friendly projector that gets the job done, the S1385WHne is well-positioned for PowerPoint presentations and occasional video.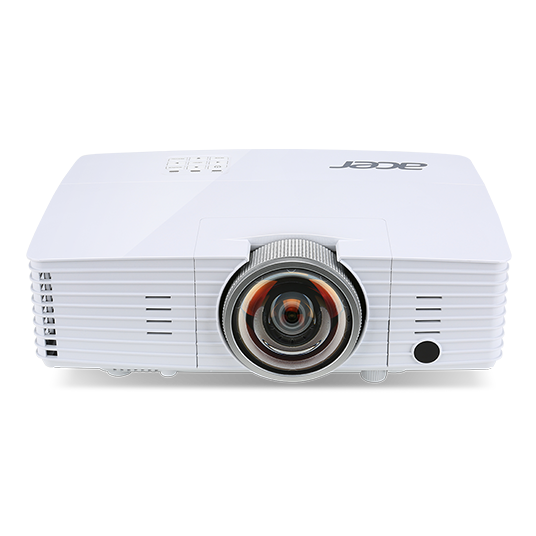 Acer S1385WHne: Most Useful Specs
A number of the Acer's features are standard fare when it comes to projectors released in 2015, but there are a few points that help this projector stand out from the competition. Its best features include:
Above-Average Brightness: At 3,200 lumens of brightness, the Acer competes above competitors in the price range, as the average hovers around 2,500-3,000 lumens. Because of the output, the projector is better-suited for larger venues, especially those with more amounts of ambient light. In darkened spaces, the projector can handle 250+ inch screens, but in a venue with moderate ambient light, the projector would work best with about a 100- to 150-inch screen. The projector is DLP-based, and as such, full color images aren't as bright as black-and-white, but the diminished quality isn't noticeable on average-sized screens. Additionally, the projector's bulb achieves a lamp life of between 4,000 and 10,000 hours – which is also much better than the competition.
High-Quality Data Images: The Acer S1385 is designed to deliver high-quality black-and-white data images. With a high contrast ratio of 13,000:1, as well as optimize color balance, the images are right on point, with an accurate palate, great contrast in white-on-black text, and superb crispness. Overall, image quality is great and on par with what you might find in more expensive models.
Versatile Portability: Another reason this projector is a business favorite: Its size. The S1385 weighs just 5.5 pounds, and it measures about the size of a reference book. That makes it easy enough to quickly move from presentation to presentation. Additionally, the projector is designed with a short-throw lamp with a .49:1 throw ratio, making it possible to fit the image on the screen even in small conference rooms.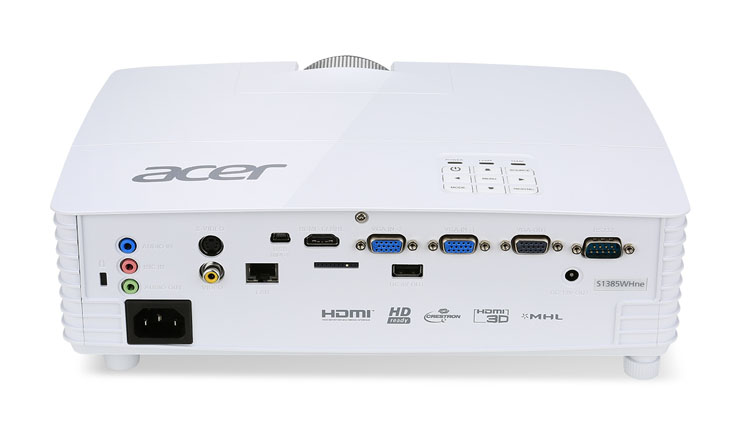 Competitors to the Acer S1385WHne
There are a number of entries in the sub-$1,000 category, but the Acer S1385WHne offers a little something more compared to its competitors. For starters, the Acer is one of the brightest in the category, and it's also priced competitively. Here's a look at some of the competition:
ViewSonic PJD6683ws: The ViewSonic was recently discontinued, but it's still available from third-party resellers. It compares closely to the S1385 in terms of brightness (3,000 lumens) and contrast (15,000:1), but it was still $100 more.
Optoma GT1080: Last year, Optoma released this Full HD projector. It compares closely with the Acer in terms of price, about $700, as well as brightness and contrast, 2,800 lumens and 25,000:1 respectively. They're very evenly matched; yet the GT1080 is more suited for video and gaming, while the S1385 is a more optimized data projector.
InFocus IN1146: The InFocus is an LED projector that's rated for just 800-lumen images. Yet it does cost $100 less than Acer, and has a 30,000-hour lamp life. If you won't be battling with ambient light, this would be a suitable option.
Looking for an Acer S1385WHne replacement lamp? Shop and save on MyProjectorLamps.com. We offer the best prices on replacement projector lamps, fast shipping, and unbeatable selection.